Speaking in public ranks among the five scariest things people will like to avoid in their work and private lives. Most people will shy away from opportunities to make a speech in public, deliver training, speak at a social event or even give a toast at a wedding or party. While this is one extreme, another group of people are very enthusiastic – taking every opportunity they find to speak in public, but sometimes not delivering the perfect punch.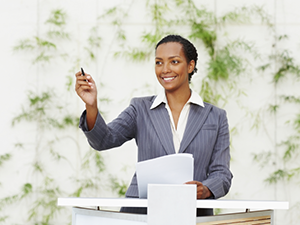 Our experience suggests that the best public speakers combine two very important skills – designing presentations: ensuring a logic flow and design to the presentation that aligns to the needs of the audience; and delivering presentations: planning and executing the presentation with the right use of language, stage presence and connection with the audience. We believe that professionals who pay adequate attention to these two skills can create influence with audiences wherever they speak, and deliver the perfect punch in one-on-one, small or large group or even impromptu presentations.
At Learning Impact, our Presentation Skills Workshop is designed to equip workplace professionals with techniques, tools and practices to enhance their presentation skills in these areas:
Communication Principles

Analysis and Interpretation of Communication

The Q-SET Formular

Designing your Presentation

Mind-mapping Tools for Presentation Design

The Basic Presentation Layout

Oratory, Diction and Stage Presence

Using Visual Aids

Preparing for Presentation Day

Using Storytelling and Humour

Delivering your Presentation – Practice & Feedback Sessions
We are available to support you in designing and implementing bespoke learning interventions targeted at professionals seeking to enhance their presentation skills that reflect your organizational context and nuances. We also offer learning resources – Audio Books, Case Studies and Interactive ELearning Workshops in the area of Presentation Skills at www.bebetterbooks.biz.
Our team of specialist learning designers is available via email at: info@learningimpactmodel.com, or via telephone on +234 805 195 3276.