If you are looking for a way to multiply the impact of your leadership and create a culture of leadership and learning in your organization, then look no further than equipping your leaders with the tools, techniques and practices of Workplace mentoring.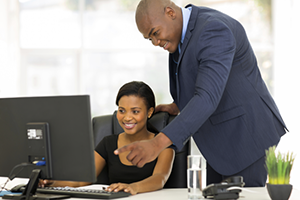 Mentoring leaders start off by leading by example – they roll up their sleeves, get their hands dirty and walk the talk. They teach, guide, direct and give opportunities for the protégés to walk in their footsteps. When the hand-holding is over, mentoring leaders stand-back and allow their protégés to perform offering feedback and encouragement; they then allow their protégés to try it out all by themselves and teach them how to mentor and reproduce more leaders themselves.
Our Mentoring Skills Workshops at Learning Impact NG will equip your leaders at all levels with practical case studies, scenarios, tools and resources to become everyday mentoring leaders, exploding and multiplying the impact of leadership in your organization. So stop leading followers and start leading leaders with our highly impactful content in the following areas:
The Leader's Role in Mentoring

Mentoring Mindset

Tools and Practices for Mentor as Guide

Tools and Practices for Mentor as Teacher

Tools and Practices for Mentor as Motivator

Skills for Mentoring
We are available to support you in designing and implementing bespoke learning interventions focused on creating a culture of mentoring that reflects your organizational context and nuances, and even establishing a Workplace Mentoring programme aligned with your talent development and/or succession planning strategy. We also offer learning resources – Audio Books, Case Studies and Interactive ELearning Workshops in the area of Workplace Mentoring at www.bebetterbooks.biz.
Our team of specialist learning designers is available via email at: info@learningimpactmodel.com, or via telephone on +234 805 195 3276.